Who Walks Who?
One of the joys of owning a dog is going for a walk together, but if your dog drags you down the street the pleasure soon disappears and it can rapidly become a chore.
Why do dog's pull?
Dog's repeat any behaviour that they find successful. Pulling on the lead results in them getting to exciting places, such as the park or beach, where they may then have off lead fun and playing a game such as fetch. Walks are also packed full of interesting scents which your dog may pull to in order to investigate them. We should also take into consideration that many dogs will naturally walk faster than we do, which will in turn cause them to pull.
What equipment should I use?
There is so much choice on the market these days and I believe a lot of it is down to personal preference. Will you use a collar, harness or perhaps a head collar?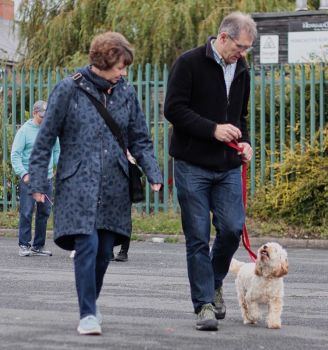 I walk all my dog's on collar and lead and generally from day one will start in this manner. However, when we took on Rossi, our Dalmatian cross, he was not at all used to going out on walks (He was about 3) and at times found the situation scary, which resulted in him pulling very unpredictably and he had a knack of being able to back out of a collar. In the early days of taking him on, I therefore introduced him to a head collar (We did this in the house and linked it to lots of treats) and used this for our walks so I could build his confidence and we could both enjoy the experience. Through consistent training, he is now safely and happily walked on a collar and lead. If your dog is already pulling on the lead, you might want to consider a harness, so that there is no pressure on the dog's neck. A correctly fitted harness is essential and it is well worth buying a good quality one. Perfect Fit Harnesses come in three pieces, so as your dog grows you can buy a different section to increase the size without having to buy an entire new harness.
Again, when considering a lead, it is what works well for you and can depend on the situation. I am not a fan of using extending leads for teaching loose lead walking as I find the handle really bulky and difficult to manage. Instead, I prefer a soft, flat lead and will often opt for a training lead that has clips that allow you to alter the length.
Where and when should I start training?
I begin loose lead training within a day or so of getting a new puppy/dog and always begin the training in the house or garden. So, you don't need to wait till your puppy is vaccinated before beginning their training. By starting off in the garden or house, we are picking a place that is familiar to them and one that doesn't have too many distractions, thereby making it easier for your dog to succeed in their training.
Don't despair if you have an older dog that already pulls, you can still teach them to walk on a loose lead and enjoy your walks again. It may take a little longer as they have already established bad habits, but with consistency you can achieve your goal.
Set your criteria
Before beginning any training, you need to determine what loose lead walking means to you. For me, loose lead walking means for my dog to walk by my side and the lead to remain loose at all times. However, for others it might just mean that the lead has to stay loose, but the dog could be ahead of the owner.
Getting started
There are numerous techniques for teaching your dog to walk on a loose lead. As I have already mentioned, I start my training in the house or garden. With a pocket full of tasty treats (Chopped up into small pieces), training begins. I start by using the treat to guide the dog to my side facing the same direction as me and then reward them. If they remain in that position, I would reward them again. During the day I would repeat this several times, so my dog is starting to learn that being by my side is a rewarding place to be. I will then take a step and wait to see if my dog moves to be back at my side so I can reward them in that position. If they don't come back to the side I will use the treats to lure them into the position. Gradually I increase the number of steps with my dog at my side and the lead remaining loose.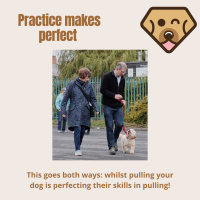 To learn more about building on these foundations to teach your dog to walk on a loose lead, email or call (Tel: 07879422131).